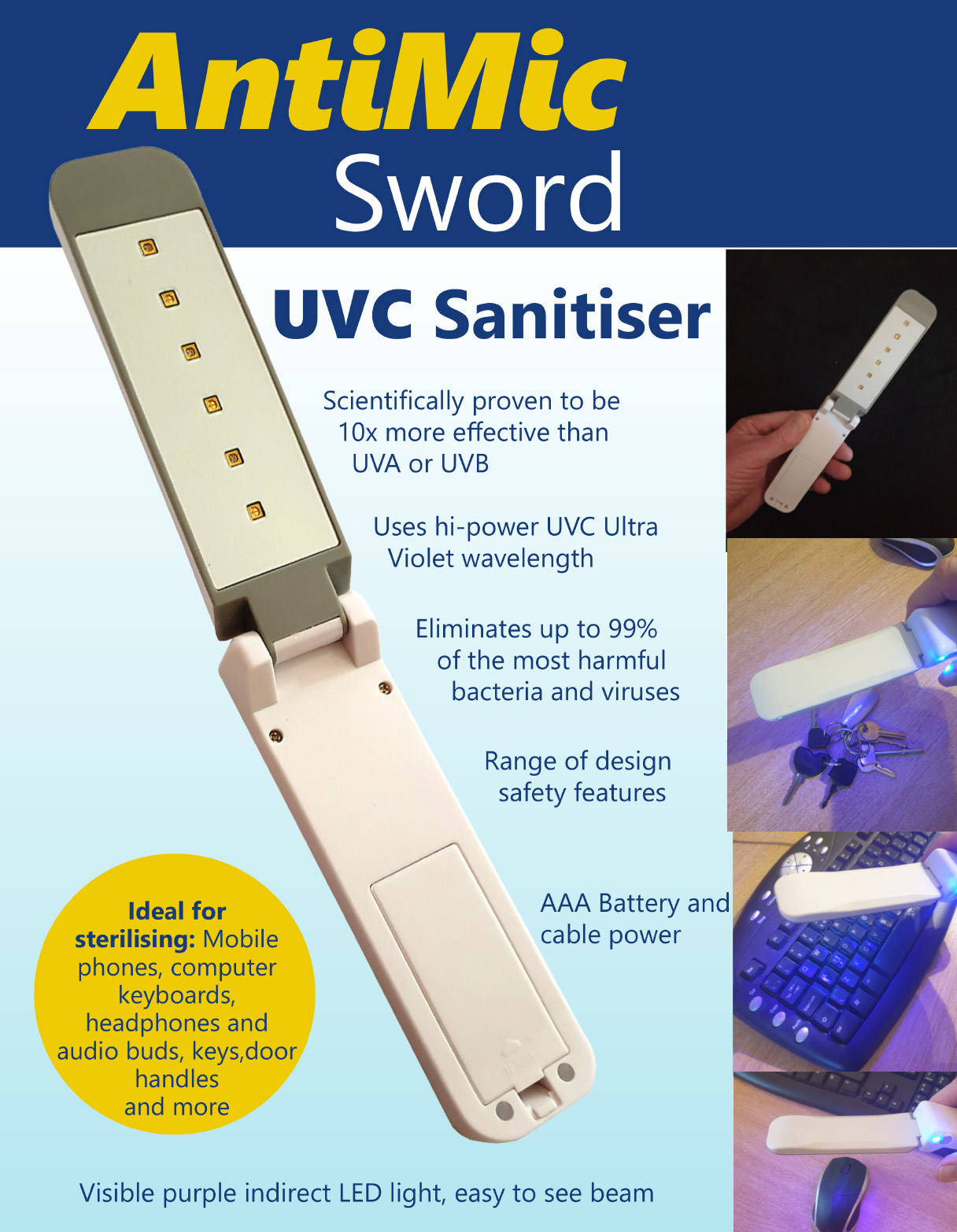 Our commitment to you.
Here at AntiMic, your safety is our highest priority. That is why all of our UVC Sanitisers have been designed with safety as the number one feature. Not only does the AntiMic Sword use the strong UVC wavelength as opposed to the far less effective UVA or UVB, usually associated with sun tan creams, making it the most effective steriliser by far, but it also has a number of ingenious extra features to protect your eyes and your skin. For example, if the unit is turned upwards, it will turn off immediately so that there is no possibility of the LED beam shinning into the eyes. It has a no slip surface coating making it very easy to grip, a sticker to remind you not to play the beam onto your skin and to make sure children are fully instructed in how to use the AntiMic Sword. We hope you benefit greatly from your purchase and that you keep safe and healthy in the years ahead. However, if you have any concerns at all, please write to us at antimic@mandarinuk.co.uk and one of the team will be delighted to assist you. I give you my personal commitment to resolve whatever issues you may have.
Take care and stay safe, Simon Bix. MD of AntiMic UK.
The AntiMic Sword UVC Sanitiser
Effective against: Listeria, Salmonella, Legionella, C Difficile, E Coli, SARS, MERS and other coronaviruses. Ideal for sterilising: Mobile phones, computer keyboards and mice, headphones and audio buds, other computer accessories, keys, key fobs, door handles, food preparation areas, children's toys, baby's feeders and dummies/pacifiers.
5% of the price of your purchase will be given directly to local charities.
AntiMic is a trading name of Mandarin UK Ltd.